The NMR Magnet System Experts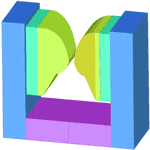 Laplacian provides a range of high technology magnet systems and services for Magnetic Resonance Imaging (MRI), Nuclear Magnetic Resonance (NMR) and other applications where special attention to magnetic field properties is required. We pride ourselves in ensuring our customers get the most appropriate level of technology for their needs through our experience and a continuing commitment to research and development.

We invite you to review our products shown in this web site or contact us with your requirements.